Choosing the Right Pet Tag: A Complete Guide for Pet Owners
As pet owners, we understand that the safety and well-being of our furry companions are top priorities! One essential tool for ensuring their security is a pet tag. A pet tag not only serves as an identification but also acts as a lifeline in reuniting lost pets with their worried owners.
In this comprehensive guide, we will explore the different types of pet tags, materials, designs, and engraving options available. Armed with this knowledge, you'll be able to make an informed decision and choose the perfect tag for your beloved pet.

Types of Pet Tags:
1) Traditional Metal Tags: These classic tags are made from durable materials such as stainless steel or brass. They are lightweight, affordable, and come in various shapes and sizes. Traditional metal tags allow for engraving essential information on one or both sides.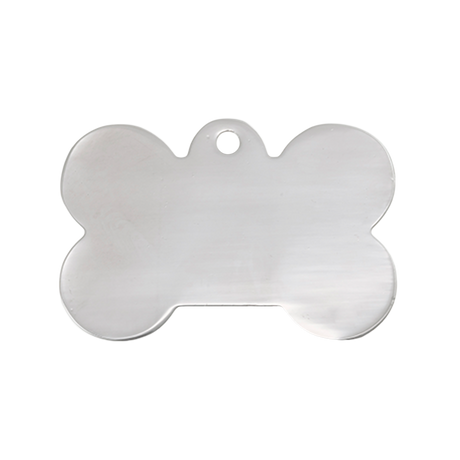 Stainless steel bone pet tag
£10.99
2) QR Code Tags: Embracing technology, QR code tags feature a scannable QR code that links to a digital profile containing detailed pet information. When scanned with a smartphone, the finder can access your pet's profile and contact you quickly.
Smart QR code tag
£14.95 (incl. free eZeclip)
3) Design tags: These tags are the perfect choice for pet owners who want to combine functionality with a touch of flair. These tags go beyond the traditional shape and material options, offering a variety of stylish designs to match your pet's unique personality. Choose a design that reflects your pet's spirit and let their tag become a fashionable addition to their collar.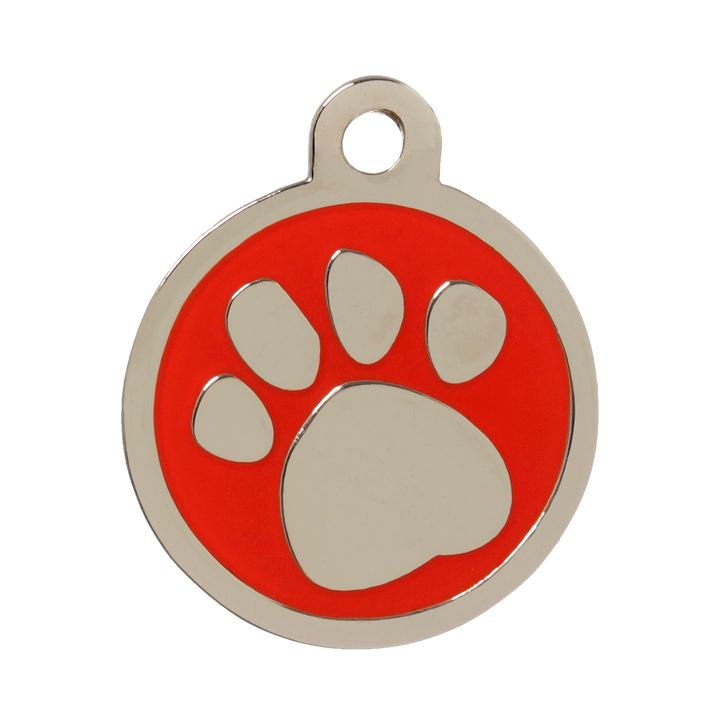 Pawprint red pet tag
£10.99
4) Aluminium tags: These tags are the lightest weight option available, making them perfect for cats and small dogs who prefer a lightweight accessory. Their sleek and vibrant appearance adds a touch of personality to your pet's collar.
However, these tags are not recommended for dogs that have a habit of chewing or playing with other dogs that chew, as aluminum may not withstand their rough play. Additionally, exposure to water or constant rubbing against wet fur should be avoided, as it may impact the longevity and readability of the tag.

Aluminium orange bone pet tag

£10.99
Materials:
1) Stainless Steel: Known for its durability, stainless steel tags are resistant to rust, tarnish, and fading. They are an excellent choice for active pets that love outdoor adventures. Our Stainless Steel Tags are made from 304 stainless steel and are mirror polished.  Stainless Steel are the most durable of tags.
2)  Aluminium: Lightweight and budget-friendly, aluminium tags are available in various colours and designs. While they may be prone to scratching over time, they are still a popular choice among pet owners. Our Aluminium Tags are made from anodised aluminium.  Anodising makes the metal harder and more durable.
3) Brass: Brass tags offer a classic and elegant look. They are sturdy, long-lasting, and less likely to corrode. With regular maintenance, brass tags can maintain their shine for years. Our Brass Tags are made from 65 environmentally friendly solid brass. A plating transparent coating is applied to slow down the oxidisation process.
4) Design and Glitter:  Our Design Tags and Glitter tags are a delightful blend of quality materials. Crafted from a mixture of zinc alloy, brass, and iron, these tags are built to withstand everyday wear and tear. The front design is coated in epoxy, providing enhanced durability and protection. With a wide range of eye-catching designs and the added sparkle of glitter, these tags effortlessly combine style and practicality.
5) Fashion: Elevate your pet's style game with our Fashion Tags. These tags are crafted from bronze, which primarily consists of copper and tin. The use of bronze gives them a unique and elegant appearance. Designed to make a fashion statement, our Fashion Tags are perfect for pets who appreciate a touch of sophistication and charm.

6) Crufts and Kennel Club: Our Crufts and Kennel Club Tags are designed to honour the prestigious world of dog shows and competitions. These tags are made from a durable blend of zinc alloy, brass, and iron. Each tag proudly represents your pet's association with the esteemed Crufts or Kennel Club. 
7) Bling: Give your pet a touch of glamour with our Bling Tags. These exquisite tags are crafted from bronze, predominantly composed of copper and tin. What sets our Bling Tags apart is the addition of genuine Swarovski crystals, radiating brilliance and elegance. These tags are a dazzling accessory that not only enhances your pet's style but also ensures their identification remains a sparkling focal point.
8) QR tag:  Embrace the power of technology and pet identification with our QR Tags. Crafted from durable stainless steel, these tags are built to withstand the demands of active pets. The QR code, lasered in metallic black, enables seamless scanning for quick access to your pet's digital profile. To ensure longevity, the QR code is protected by a layer of epoxy, safeguarding it from the elements. Our QR Tags are the epitome of modern pet identification, merging functionality, security, and convenience in one innovative design.
Designs and Engraving Options:
1) Shape and Size: Pet tags come in a range of shapes, including bone, circle, heart, and many more! Consider the size of your pet and the available space for engraving when choosing the tag's dimensions. These can all be found for each tag on our website.

2) Engraving: When it comes to engraving, ensure that the text is legible and includes essential information such as your family name, your contact number(s), and any medical conditions or special instructions. 

3) Tips and Considerations:

a. Multiple Contact Information: It's a good idea to include multiple contact numbers on the tag, such as your primary phone number and an alternate number. This increases the chances of a swift reunion if one number is unavailable.

b. Privacy Considerations: While it's important to include necessary contact information, avoid including your pet's name on the tag. This prevents potential pet theft by strangers who could use your pet's name to gain their trust.

c. Regular Inspection: Periodically check the tag for wear and tear, as well as any fading or illegibility. Replace the tag if necessary to ensure that the information remains clear and easily readable.

To Conclude:
Choosing the right pet tag is a crucial step in ensuring the safety and identification of your beloved pet. By considering the different types of pet tags, materials, designs, and engraving options, you can make an informed decision that aligns with your pet's needs and your personal style. Remember to prioritize legibility, durability, and multiple contact information. With the perfect pet tag, you can provide your furry companion with a stylish and reliable form of identification, offering peace of mind and enhancing their overall safety.